"Spring Storm" by Tennessee Williams
at the Cottesloe Theatre, Wednesday 28th April 2010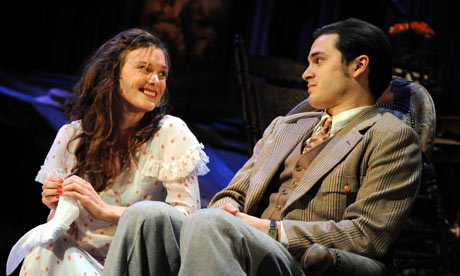 We have been told countless times over the past couple of years that we are living in the worst recession in living memory and that the last time any such widespread trauma was seen was during the Great Depression. Watching the Royal and Derngate's production of"Spring Storm, one of Tennessee Williams' earliest works, we realise that we have actually been dealt a good hand.
It is a simple story, but a dramatic one. Heavenly Critchfield, an prototype of Blance duBois, is in love with Dick Miles, but her parents Esmerelda and Oliver instead want her to marry a man of a higher social class, Arthur Shannon. The conventions and situation at the time make marrying well an important consideration and this dilemma haunts the entire length of the play. On the sidelines, however, is Hertha Neilson, in love with Arthur but unable to have him, and whose demise leads to an unexpected tragedy.
The majority of Williams' script is deeply funny, and director Laurie Sansom truly brings out the comedy in the first two halves of the play. The relationship between the Critchfields highlights the importance of family and until the last half an hour it seems that the play will end with a tone of hope. The pressures of life in difficult times however mean that this desired outcome is not possible and as the curtain closes we learn that all the younger characters are in fact left to live alone.
Whilst at times accents to seem to be a slight hindrance, the acting throughout the production is hugely empathetic. Michael Thompson as Dick and Michael Malarkey as Arthur offer contrasting interpretations of younger men which only serve to further Heavenly's indecision. Janice McKenzie as Esmerelda and Joanna Bacon as Aunt Lila act as a foil to the antics of the young generations and much of the comedy is found here. The stand out performance of the evening, however, is from Liz White as Heavenly. White's refreshing skill brings out the joyous innocence of the central character and this furthers the age-old message of thinking with the heart in matters of love.
Sara Perks' disparate set highlights the chaos of the depression. Planks of wood are hastily assembled as book shelves and old railings are destroyed just as easily as they are erected. Two trees stand with outstretched fingers at the back of the stage and a gauze lines the littered moat surrounding the stage, allowing us to see characters entering moments before they actually arrive.
The use of spoken stage directions offers the play an ethereal atmosphere, and while the voice over reminds us that we are in a theatre, this technique suggests a newsreader commenting on the situation we see before us. Spring Storm reminds us that in the past people have lived in far worse conditions than we do now, and that recessions prove that we must be even more vigilant in stopping injustices we see around us.